We have added many new products
that we are excited about—we think you will be, too!
(Scroll down past the list for pictures)


At Holistic Pet Vet Clinic we pride ourselves on the quality of the products we offer for you and your furry friends. We research raw-material sources, manufacturing facilities, and supplier and vendor reputations when choosing to carry

food, treats, grooming products, natural flea products, essential oils, flower essences—or cleaning and deodorizing products

for a healthier and greener lifestyle, both for you and for your animal! Whenever possible, we support local vendors and companies to help strengthen our local and regional economy.
We can special-order products for you!

Call us by noon on Tuesday to place an order for Rad Cat or Northwest Naturals (our most popular special-ordered products).

Northwest Naturals offers a buy 12, get one free program. Ask us for details!




We order from a variety of other distributors several times per month and can special-order cat and dog food, treats, cat litter and other products in quantity, so you are not limited to our stock on hand.

We offer a 10% case discount on all food (can mix and match).



Canned Food for Cats and Dogs:

Sardines (great source of Omega-3s)



Ziwi Peak Mackeral and Lamb, Tripe and Lamb (dog food only)

Fussie Cat


Rawz Grain-Free Chicken, Beef, Duck (dog food only)

Rawz Turkey/Turkey Liver, Rabbit

Pumpkin


Dry Food for Cats and Dogs:

Orijen

Farmina N&D (Natural and Delicious; cat food only)

Ziwi Peak Beef

Rawz Freeze-Dried Lamb, Chicken, Beef

Raw Food and Mixes for Cats and Dogs:

NW Naturals Fresh-Frozen Raw Diet for cats and dogs

Small Batch Frozen Raw Diet Beef, Chicken, Duck, Lamb, Turkey, Rabbit (cats only)


Answers Raw Goats Milk, Cow's Milk Kefir, Turkey Stock with Fermented Beets, and Fermented Fish Stock

TC Feline Raw Diet Pre-Mix


Better In The Raw Essential Nutrients Pre-Mix (dogs only)

Nuggets Beef and Turkey Bone Broth

Rawz Freeze-Dried Beef, Chicken, Lamb


Treats and Toys for Cats and Dogs:

NW Naturals Pork Liver, Beef, Bison, Lamb Liver Treats

NW Naturals Freeze-Dried Salmon, Bison Treats


NW Naturals Freeze-Dried Nibbles for Cats

Jones Natural Chews


Jones Dehydrated Lamb Puffs

Wild Pollock Oil, Eskimo-3 Fish Oil, Ultra Oil

Sweet Potato Chews Dog Treats


Earth Animal No-Hide Salmon, Pork, Beef Chews

Cat Sushi Bonito Flakes

Uncle Larry's Chicken Liver

Vital Cat Salmon, Rabbit, Duck


The Honest Kitchen: Nice Mussels (Blue and Green Dried Mussels for skin and coat), Beams Smalls Fish Skin Chews for teeth, Joyful Jerky Beef Filets

Organic Catnip Toys


Kung Fu Kitty Wands

Mousies (different sizes)






Glandular and Nutritional Supplements


Integrative Therapeutics nutraceuticals**

Standard Process glandular supplements**


Vetri-Science dog and cat nutraceuticals and vitamins**

Veterinarian Recommended Solutions Dog and Cat Vitamins**

Animal Essentials Probiotics and Digestive Enzymes

Animal Essentials Natural Seaweed Calcium

Dr. Harvey's Multi-Vitamins and Minerals

Colostrum*

Calming Products:

Rescue Remedy for Pets




Adaptil (formerly DAP) diffusers, and spray for dogs

Feliway

diffusers

for cats

Essential oils

Ease Plus**

Shen Calmer**

Free and Easy Wanderer**

Tranquility Blend**

Specially Formulated Flower Essence Tinctures**

HempRx Oil and Chews**

Cleaning and Grooming Products:


Dermoscent skin and coat products




EarthBath shampoos, conditioners, spritzes, wipes

Unique Pet Odor and Stain Remover

Nanoparticle Silver Water (Agua de Nano-Plata)—a natural antibacterial spray


Dental Products:


CET toothbrushes, fingerbrushes, and enzymatic toothpastes

Placque-Off Powder

Vetri-Science Perio Support**

Vetri-Repel Spray and Wipes

Diatomaceous Earth Dust (Human Food-Grade)


Comfortis (by prescription only)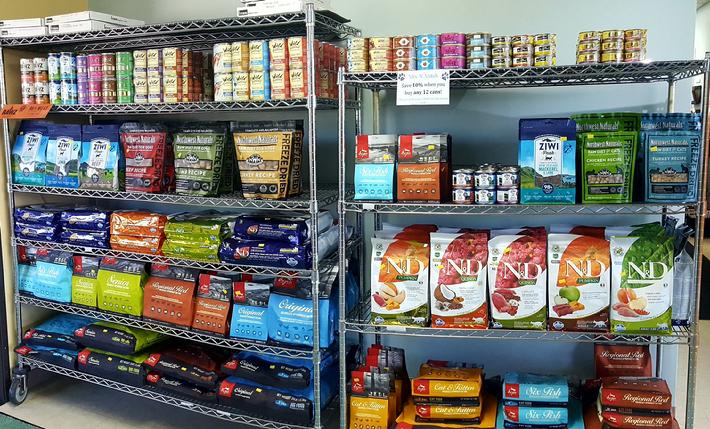 Some of the varieties of cat and dog food we carry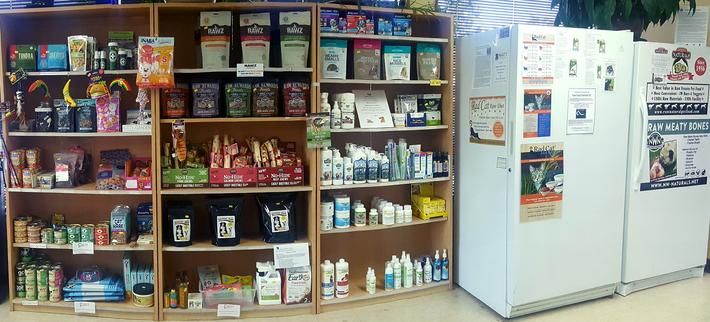 More of the products we carry
| | | |
| --- | --- | --- |
| Inaba Churus | Mooky loves his Churus! | Inaba Tuna and Chicken Fillets |
Clinic Hours:
Monday 10:00 am–7:00 pm
Tuesday,
Wednesday, Thursday, Friday

9:00 am–6:00 pm
Closed Saturday and Sunday
We gladly accept Visa, Mastercard, Discover, American Express,
Scratchpay, Care Credit, personal checks, and cash.